2017 Preseason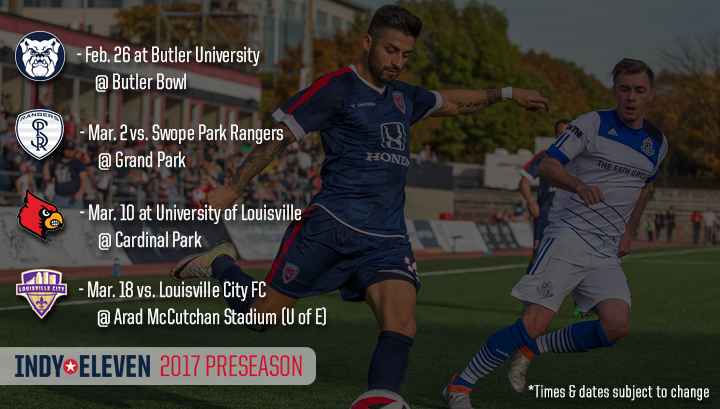 With a mix of familiar faces, new signings and eager roster hopefuls ready to go, head coach Tim Hankinson's Indy Eleven will gather for the first time next week ahead of the 2017 season. After reporting to Indianapolis for entrance physicals next Monday, February 13, the "Boys in Blue" will have six weeks to prepare for the 2017 NASL season opener, set for March 25 at the San Francisco Deltas.
Rather than venturing out west to Arizona like during preseasons of the past, Indy Eleven's preparations will be entirely local in 2017 thanks in large part to the construction of the Grand Park Events Center. "Indiana's Team" will take advantage of the full scope of the massive Westfield-based Grand Park sports complex, alternating practices between the new indoor facility and the wide expanse of outdoor fields available across preseason.
After undergoing a series of baseline performance tests next Tuesday (Feb. 14), Indy Eleven will hold its first official training session of the year at Grand Park on Wednesday in the Events Center. Nine days later, Indy Eleven will take to the field for its first scrimmage on Friday, February 24, against Butler University, set to take place on campus at the Butler Bowl on Indy's north side.
The Bulldogs won't be the only familar foe - or field - in the coming weeks for Indy Eleven, which will also renew acquaintances with the University of Louisville across the Ohio River for the third time in four years and face off with USL squad Louisville City FC for the third straight season - this time during Indy's second trip in as many years to the University of Evansville's Arad McCutcheon Stadium.
The only new opposition on this year's preseason calendar is Kansas City-based Swope Park Rangers of the USL, which is set to visit Grand Park on March 2. Details surrounding one additional preseason game are also being finalized and are expected to be announced in the coming days.
The below preseason schedule will be subject to change, with updates to be posted here at www.IndyEleven.com and on the team's social media channels.
Friday, February 24 at Butler University (NCAA) – 5:00 p.m. at Butler Bowl in Indianapolis, IN (Free & open to public)
Thursday, March 2 vs. Swope Park Rangers (USL) – 2:00 p.m. at Grand Park Events Center in Westfield, IN (open to public)
Friday, March 10 at University of Louisville – 7:00 p.m. ET at Cardinal Park in Louisville, KY (ticket info TBD)
Saturday, March 18 vs. Louisville City FC (USL) – 6:00 p.m. ET (5:00 p.m. local/CT) at Arad McCutchan Stadium in Evansville, IN (University of Evansville) ($5 admission at gate)
Fans will be able to follow the action live during every preseason game via the team's @IndyElevenLive Twitter feed, with www.IndyEleven.com providing post-game recaps and analysis.
On the heels of the March 25 season opener at San Francisco, Indy Eleven will kick off its 2017 home schedule at IUPUI's Michael A. Carroll Stadium with a rematch of last year's home finale against Puerto Rico FC. As of now, the only way to secure seats is through the team's 17-game season ticket package or the new 8-Flex Pack, while single-game tickets are set to go on sale to the public in mid-February.
For Indy Eleven's full 2017 NASL regular season schedule, visit IndyEleven.com/schedule.