Parking & Tailgating Info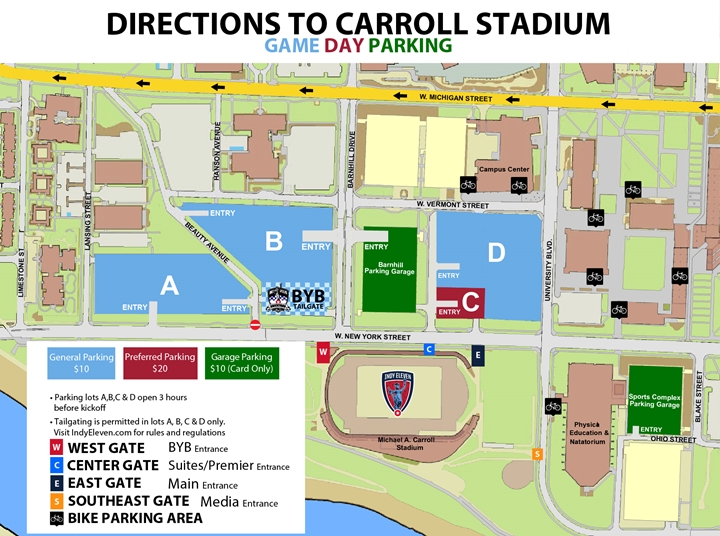 UPDATES FOR NOVEMBER 5 PLAYOFF GAME:
Planning on making it to #TheMike on Saturday afternoon? Make sure to budget some extra time to ensure you'll be able to make the 3:00 pm kickoff with no worries!
Please note that Saturday's Monumental Marathon will impact travel across the downtown area at different points throughout the morning and afternoon hours. Click here for a map of closures and logistics ...

To avoid closures, try to approach Carroll Stadium from the west via New York Street
If you are using New York Street to approach Carroll Stadium from the east (downtown), you are advised to utilize West Street and Martin Luther King Jr. Street to reach New York Street

With no passes available for advance purchase, ALL SALES for Lots A-D will be handled at the parking lot entry gates, which may result in longer entry time. As always, the closer you arrive to kickoff, the greater the chance of waiting!
Gates will open at 12:00 p.m. ET, three hours in advance of the 3:00 pm kickoff
Per usual, surface lots A-D will be on a CASH ONLY basis, while credit cards will be accepted for the Barnhill and Sports Complex parking garages (reference map below for locations & prices).
​Indy Eleven and IUPUI have partnered to put together a parking plan that will allow fans the most convenient experience possible getting to and from every match.
There will be three $10 General Parking Areas (A, B & D) and one $20 Preferred Parking Lot (C)
All four lots will open 3 hours before kickoff (4:30 p.m. ET for all regular season games)
All four General and Preferred lots (A, B, C & D) will be tailgate-friendly; please see the tailgating section below for full details)
*** There will be designated ADA Parking areas in lots B, C & D. ADA patrons that need assistance to get from the parking lot to the Carroll Stadium gates should notify a parking attendant, who will call security detail for a cart to transport fans over.
*** ADA patrons can also be dropped off in a dedicated temporary unloading zone located on New York Street right outside the East Gate at Carroll Stadium.
*** Designated parking for buses and RV's will be in Lot B and will cost $30.
*** IUPUI Parking Permits will NOT be valid in the four game day General and Preferred lots once parking for gameday begins three hours before kickoff. Valid permits will still be recognized in the in all other lots/gargages on campus, including the Barnhill and Vermont garages closest to the stadium.
Parking Lot Directions
LOT A (General Parking, $10 - Cash Only)
Take Michigan and turn left on Lansing or Beauty
LOT B (General Parking, $10 - Cash Only)
Take New York and turn left on Beauty OR
Take Michigan and turn left on Barnhill
LOT C (Preferred Parking, $20 - Cash Only)
Take New York and turn right on Patterson OR
Take Vermont and turn right on Patterson
LOT D (General Parking, $10 - Cash Only)
Take New York and turn right on Patterson OR
Take Vermont and turn right on Patterson
Barnhill Garage (General Parking, $10 - Credit Card Only)
Take Michigan and turn left on Barnhill
Sports Garage (General Parking, $10 - Credit Card Only)
Take New York and turn right on Blake, then right on Ohio
IndyGo Public Transit
Looking to avoid parking all together? IndyGo Bus Routes #3, #37 and #50 all stop within a block of Carroll Stadium. Click here for the full listing of IndyGo Routes, many more of which stop within a mile of Carroll Stadium.
Bicycle Parking
Parking for bicycles is available on the west side of the IUPUI Natatorium, located off of University Street.
Tailgating Regulations
Parking lots will open three hours prior to kickoff unless schedule conflicts occur. Tailgating will be allowed on a first-come, first-served basis; saving spots is not allowed. Patrons are encouraged to arrive in conjunction with other fans in order to set up adjacent tailgating events.
The Brickyard Battalion tailgate is open to all fans and will be held in the southern portion of Lot B.
One spot per purchased parking ticket. To allow as many fans to utilize these gameday lots as possible, fans will not be able to purchase additional spots for tailgating space.
Patrons must ensure all tables, chairs, coolers, barbeques, etc. do not block the traffic lane behind their vehicle in the case of an emergency and must be packed away in a secure place before leaving to enjoy the match.
Open flames are permitted. All barbecue equipment left unattended must be extinguished.
Do not place hot or burning coals under vehicles at any time - metal charcoal only disposal bins can be found in each lot.
All cooking equipment must be situated away from crowds, buildings, vehicles or combustible materials. A minimum clearance distance of 3' is required.
Port-a-let bathrooms will be located in each lot
No advertising, banners, signs or distribution items for promotional use are allowed in the lots. Tailgaters will be asked to remove inappropriate banners or signs.
Music speakers may not exceed reasonable levels in the sole determination of Indy Eleven and event personnel.
Lots must be cleared within 45 minutes of the conclusion of the event.
Please drink responsibly during the tailgate as any guest(s) who appear to be impaired will not be permitted entrance into the stadium.