Gameday A-Z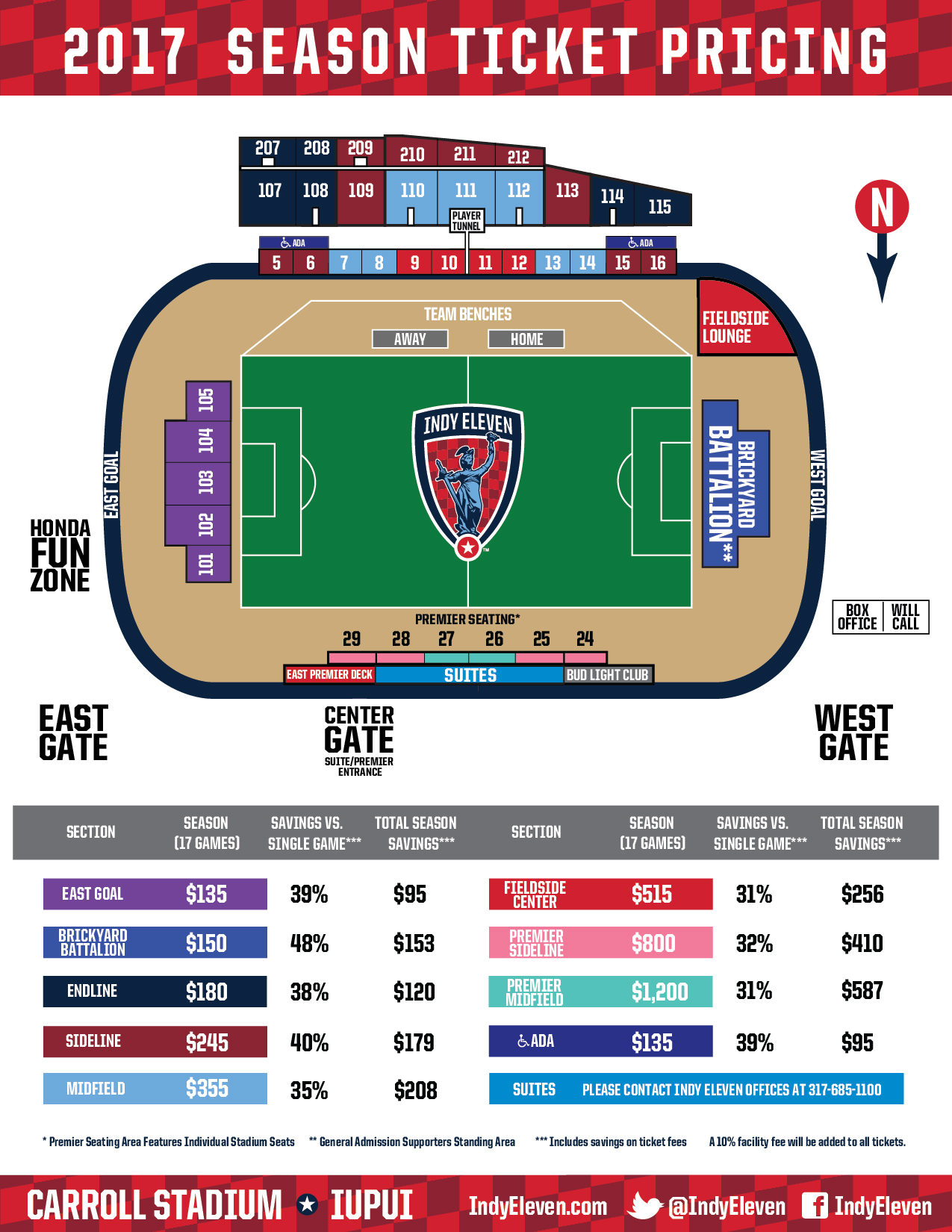 Alcohol
All guests over 21 years of age who would like to purchase alcoholic beverages can do so at concession stands throughout Carroll Stadium, as well as at portable beverage stands. Guests who appear to be under the age of 40 will be required to show approved identification. No guest will be served more than two alcoholic beverages at any given time. Alcohol beverage sales will stop at the 75th minute.
No alcoholic beverages can be brought inside the stadium. Any attempt to bring alcohol inside the stadium or possession of an alcoholic beverage not purchased at Carroll Stadium may result in ejection. No alcoholic beverages served inside the stadium can be taken outside Carroll Stadium.
ADA Seating/Parking
ADA seating is available for wheelchair-bound patrons and accompanying companions at Carroll Stadium via platform seating located in Club Level sections 5, 6, 15 & 16, with season tickets in these sections costing $160 and individual game tickets going for $11. ADA seats are available to purchase by calling the Indy Eleven Box Office at 317.685.1100.
There will be designated ADA parking areas in Lots B, C & D. ADA patrons that need assistance to get from the parking lot to the Carroll Stadium gates should notify a parking attendant, who will call security detail for a cart to transport fans over.
Animals
Guide, signal, and service animals are allowed inside Carroll Stadium with fans that need their assistance. No other animals are permitted.
Baby Changing Areas
Baby changing stations will be available in all permanent restroom facilities at the stadium, located in the southeast, southwest and northwest corners of the venue.
Bags
All bags and backpacks that easily fit under a seat are allowed in Carroll Stadium. All bags are subject to inspection by security personnel prior to entering the stadium. Hard-cased coolers are not allowed into Carroll Stadium.
Banners, Flags, and Signs
Fans are permitted to bring signs, flags and/or banners into Carroll Stadium to show their support of Indy Eleven. All such materials must follow these guidelines:
No profanities or inappropriate language may be exhibited on the sign, flag or banner.

The sign, flag or banner may not block the view of other fans during the run of play.

The sign, flag or banner may not block any sponsorship signage displayed in Carroll Stadium
Any signs, flags or banners that do not follow the above guidelines must be removed or they will be subject to confiscation.
Bicycle Parking
Bike racks are located outside the Natatorium along University Blvd, directly to the east of Carroll Stadium.
Box Office
The Indy Eleven box office is located at the northwest entrance of Carroll Stadium and will open three (3) hours prior to kickoff. Tickets will be available for purchase via cash or Visa, MasterCard, American Express, and Discover credit cards. Tickets can also be purchased in advance by calling the Indy Eleven front office (M-F, 9am-5pm) at 317-685-1100 or visiting www.indyeleven.com .
Brickyard Battalion
All Brickyard Battalion sections (117-121) are General Admission and are first come, first served. The BYB is a supporters section and fans are expected to stand, chant and sing in support of Indy Eleven throughout the game. Fans in the BYB sections should be aware that their view may at times be obstructed by active displays of support including banners and flags.
Visiting team colors are not permitted in the BYB section and visiting supporters may be relocated to another part of the stadium ... for information on how to secure seats in the official visitors seating section please contact Indy Eleven at tickets@indyeleven.com or 317-685-1100 during regular business hours.
Camera and Video Equipment
Cameras and video recorders are allowed at Carroll Stadium for Indy Eleven games. Lenses exceeding 8" in length and tripods/monopods are not permitted inside Carroll Stadium.
Children
Children age two and under will be admitted free as long as the child is sitting on an adult's lap. If a parent requests a physical seat for the child, he/she must pay the appropriate price for a ticket.
Code of Conduct
Indy Eleven is committed to creating a safe, comfortable and enjoyable experience for all fans. All guests are asked to adhere to the following Code of Conduct:
Guests shall be respectful of all other guests, fans, participants, referees, entertainers, athletes, stadium staff and stadium property.

Guests who drink alcoholic beverages shall do so in a responsible manner.

Guests shall refrain from using offensive language, making obscene gestures, throwing objects, using flares, fireworks, smoke bombs and other prohibited items.

Guests shall never enter the field of play, the performance area or interfere with the event in any fashion.

Guests shall comply with the direction and instructions of Indy Eleven and Carroll Stadium staff and representatives.
If someone interferes with your enjoyment of a game, please contact a Guest Services Representative for assistance. Guests who fail to comply with the Code of Conduct are subject to ejection from the stadium. We thank you for your cooperation and we hope you enjoy your visit to Carroll Stadium!
Directions
Michael Carroll Stadium is located on the campus of Indiana University - Purdue University Indianapolis (IUPUI), located on the northwest side of downtown Indianapolis at 1001 W. New York Street. Click here for driving directions to the IUPUI campus , or here for directions via Google Maps .
Ejection Policy
Fans that refuse to follow the direction of Indy Eleven staff or designated security or fail to comply with the Code of Conduct may be subject to ejection without a refund of their event ticket and may lose future ticket privileges.
Entrance Times
Gates for all seating areas will open 90 minutes prior to kick-off. Reference the map at the top of the page for the gate locations.
First Aid
The First Aid booth at Carroll Stadium will be located in the field-level workroom in the southeast corner.
Food and Beverage Policy
Fans are not allowed to bring any outside food or beverage items inside Carroll Stadium - with the exception of one unopened, sealed bottle of water. Please leave these items inside vehicles or dispose of them at the security checkpoint before entering the stadium. The only exceptions are food and beverage items for infants two years of age or younger, and special considerations may also be made for medical reasons.
Guest Services
The Guest Services booth is located behind the East Goal stand on the field/track level.
Lost and Found
Patrons should report to the Guest Services booth located behind the East Goal stand on the field/track level to report or retrieve lost items.
Noise Making Devices
Musical instruments or any types of noise making devices not approved by Indy Eleven are not permitted inside Carroll Stadium. This includes, but is not limited to, items such as whistles, vuvuzelas, air horns, boom boxes and other electronic sound devices.
Parking
Parking is available in the four surface lots across New York Street from Carroll Stadium and will cost $10 in the three General Lots(Lots A, B & D) and $15 in one Preferred Lot (Lot C). In addition, $10 spots (credit card only) are also available in the Barnhill and Sports Parking Garages in close proximity to the stadium. Please click here to see a detailed parking map with directions to each available lot.
Prohibited Items
Items not permitted into the facility include, but are not limited to, the following:
Weapons or fireworks of any kind

Any missile or projectile-like objects

Noisemakers - whistles, vuvuzelas or air horns of any kind

Laser pointers

Hard-cased containers or coolers

Large bags (bags must fit comfortably under ticketed seat)

Umbrellas (any size or type)

Strollers

Poles and staffs of any kind (metal, plastic or wooden)

Any outside food and beverages, with exception of one unopened, sealed bottle of water per fan

Camera lenses in excess of eight inches and all tripods/monopods

Animals (except service animals)

Frisbees or inflated balls of any kind
Anyone in possession of a prohibited item will be asked to either take the item back to their vehicle or dispose of it.
Fans are encouraged to bring banners and flags provided they are not commercial or contain profanity or inappropriate language. The display of banners and flags may not obstruct the view of fans during the run of play, block stadium signage, or present any safety hazards.
Re-entry
Fans may not exit and re-enter the stadium using the same ticket. In the case of a medical emergency, please see a guest services representative.
Tailgating
Parking lots will open three hours prior to kickoff unless schedule conflicts occur. Tailgating will be allowed on a first come, first served basis; saving spots is not allowed. Patrons are encouraged to arrive in conjunction with other fans in order to set up adjacent tailgating events.
The Brickyard Battalion tailgate is open to all fans and will be held in the southern portion of Lot B.
One spot per purchased parking ticket. To allow as many fans to utilize these gameday lots as possible, fans will not be able to purchase additional spots for tailgating space.
Patrons must ensure all tables, chairs, coolers, barbecues, etc. do not block the traffic lane behind their vehicle in the case of an emergency and must be packed away in a secure place before leaving to enjoy the match.
Open flames are permitted. All barbecue equipment left unattended must be extinguished.
Do not place hot or burning coals under vehicles at any time - metal charcoal only disposal bins can be found in each lot.
All cooking equipment must be situated away from crowds, buildings, vehicles or combustible materials. A minimum clearance distance of 3' is required.
Port-a-let bathrooms will be located in each lot
No advertising, banners, signs or distribution items for promotional use are allowed in the lots. Tailgaters will be asked to remove inappropriate banners or signs.
Music speakers may not exceed reasonable levels in the sole determination of Indy Eleven and event personnel.
Lots must be cleared within 45 minutes of the conclusion of the event.
Please drink responsibly during the tailgate as any guest(s) who appear to be impaired will not be permitted entrance into the stadium.
Weather
Indy Eleven games are subject to cancellation due to extreme or inclement weather. Games will be delayed in the event of lightning in the area.
Will Call
Will Call tickets are available beginning three hours prior to kick-off upon the opening of the Carroll Stadium Box Office, located outside of the West Gate off of New York Street. Tickets will be released only to the person whose name appears on the will call envelope; no one will be issued tickets designated for another person. Valid photo identification along with the credit card used to purchase the tickets (if applicable) is required to secure Will Call tickets.