Green BEAN Delivery - $10 Off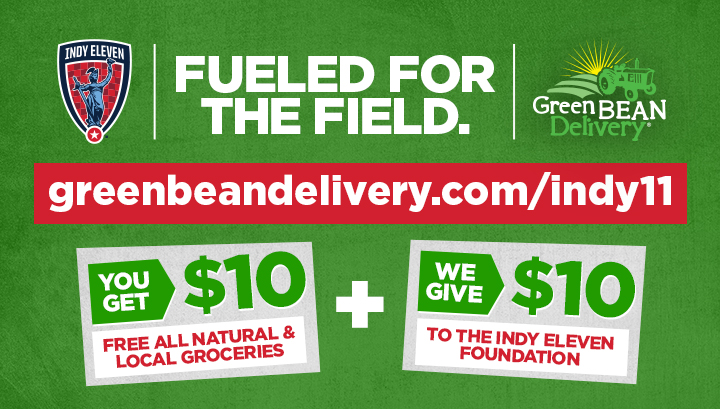 Indianapolis-based Green BEAN Delivery is proud to partner with Indy Eleven once again in 2016 to provide the "Boys in Blue" with the food they need to fuel their season.
Using their Break Room Bins program that delivers to local businesses every Monday, Green BEAN Delivery brings high-quality produce, preservative-free Applegate deli meats, local preserves, Clif bars, Organic Valley cheeses, Stonyfield yogurts, Rudi's breads, granolas, Orgain nutritional shakes, kefirs, tuna, and a variety of other natural grocery items available in their online store. Indy Eleven and Green BEAN Delivery believe that the best, most-nutritious foods can give the players the proper fuel they need for a win, whether on the road or at Carroll Stadium.
Green BEAN Delivery is a full-service online grocery store specializing in organic produce and natural groceries. They work with hundreds of local farmers and artisans, plus regional and national brands, to provide their members with the highest-quality produce, meat, dairy, and eggs, plus thousands of grocery items. The meat, dairy, and eggs are antibiotic and hormone-free, plus pasture-raised in season. All of their grocery items are natural which means you'll only see recognizable, real ingredients in their food, no artificial additives or preservatives.
All members are able to fully customize their orders up until 10:00 a.m. the day before their scheduled delivery. They'll find that all the grocery items are at or below the price of comparable natural food products in the brick-and-mortar stores. With no contract, free delivery with a minimum purchase, and orders brought right to your front door in an insulated, reusable plastic bin, you can easily make trips to the grocery store a thing of the past.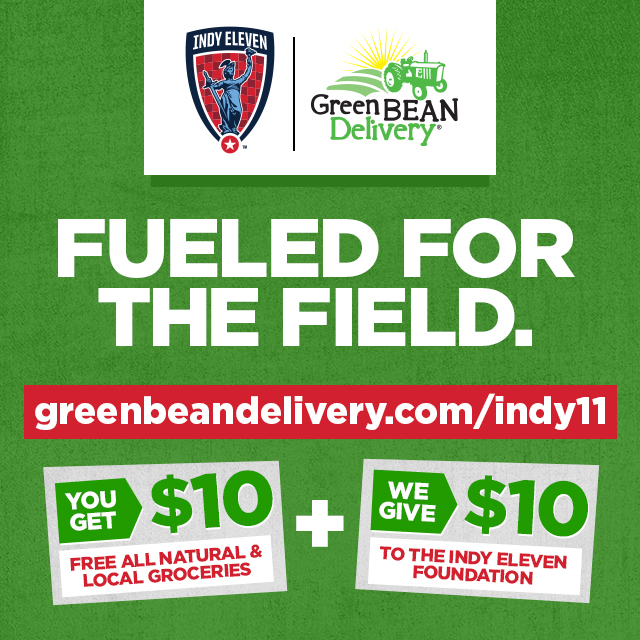 New members can give their service a try at a discount and support the Indy Eleven Soccer Foundation in the process! When you sign up online at GreenBEANdelivery.com using the "IndyEleven" promo code at checkout, you'll receive $10 off your first order. In addition, Green BEAN Delivery will donate $10 back to the new Indy Eleven Soccer Foundation, supporting their mission of providing Indiana youth with positive experiences and promoting healthy lifestyles and character development in under-served communities.
Feel free to contact the Green BEAN member services department at support@greenbeandelivery.com or call (317) 377-0470 with any questions.