Kicks for Kids Ticket Donations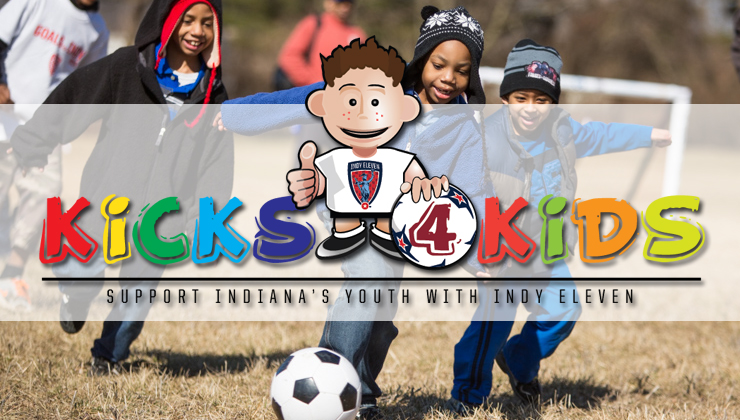 "Kicks for Kids" Program
The "Kicks for Kids" package is a ticket donation program that enables individuals and organizations to support underprivileged children and other deserving young people by giving them the opportunity to experience the excitement of an Indy Eleven game at Carroll Stadium. For every $10, a deserving child is able to enjoy the unforgettable experience of an Indy Eleven game that might not otherwise have the opportunity to do so ... and you can donate to the charity or organization of your choice as well!
Your commitment to the "Kicks for Kids" program will add to your company's community service efforts and provides recognition for your organization. Participating organizations offering children the opportunity to attend an Indy Eleven game include, but are not limited to: Big Brothers Big Sisters, Children's Bureau, Easter Seals Crossroads, Ronald McDonald House, United Way of Central Indiana and the YMCA.
Browse the donation levels below, then contact Indy Eleven Director of Ticket Sales Mike Henn at (317) 685-1100 or mike@indyeleven.com to join the Kicks for Kids program!
Gold Package ($2,500.00)
Provides the opportunity for 250 children to attend an Indy Eleven game
Eight Premier tickets for premium hospitality, including In-Seat food and beverage service
Team Souvenir Pack
Two Parking passes
Personalized Indy Eleven jersey with company/donor's name
A visit from Zeke, the friendly furry Indy Eleven Mascot
Company/Donor recognition in-stadium on PA during "Kicks for Kids" recognition game (TBD for 2017 season), on game broadcast on WISH-TV/MyINDY-TV and on Indy Eleven's Soccer Saturday radio show on 93.5/1070 The Fan
First Kick: A representative from your company will be recognized with a PA announcement and participate in the First Kick ceremony during pre-game during "Kicks for Kids" recognition game (TBD for 2017 season)
Red Package ($1,250.00)
Provides the opportunity for 125 children to attend an Indy Eleven game
Four Premier tickets for premium hospitality, including In-Seat food and beverage service
Team Souvenir Pack
One Parking pass
Company/Donor recognition in-stadium on PA during "Kicks for Kids" recognition game (TBD for 2017 season) and on Indy Eleven's Soccer Saturday radio show on 93.5/1070 The Fan
White Package ($600.00)
Provides the opportunity for 60 children to attend an Indy Eleven game
Two Premier tickets for premium hospitality, including In-Seat food and beverage service
Team Souvenir Pack
One Parking Pass
Company/Donor recognition in-stadium on PA during "Kicks for Kids" recognition game (TBD for 2017 season)
Blue Package ($300.00)
Provides the opportunity for 30 children to attend an Indy Eleven game
Two Club tickets for premium hospitality
Team Souvenir Pack
One Parking Pass