Mobile App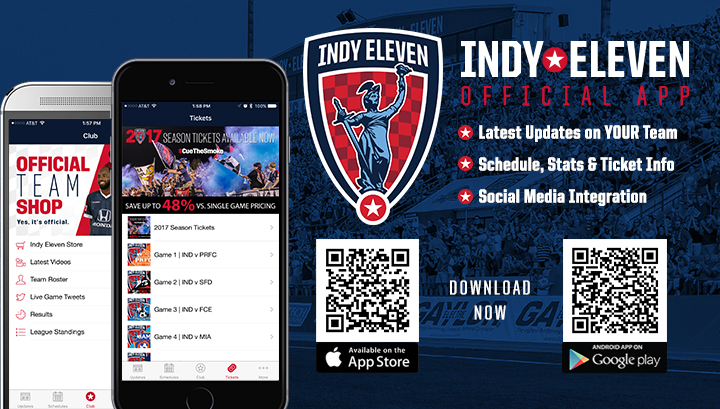 Indy Eleven Goes Mobile with Launch of New App
"Indiana's Team" Partners with Fishers-based Bluebridge in Developing Newest Way to Follow the NASL Club
CLICK TO DOWNLOAD - APPLE / ANDROID
Indy Eleven and Fishers-based mobile app platform Bluebridge have teamed up to keep supporters of "Indiana's Team" in the North American Soccer League in the know with today's official launch of the club's new mobile app.
The app is now available to fans on both iOS (Apple) and Android platforms and can be downloaded via the iTunes and Google Play online stores, respectively.
"Indy Eleven fans now have an easy-to-use resource to stay updated on everything going on with the club they love," said Tom Dunmore, Indy Eleven Senior Vice-President of Marketing and Operations. "As an organization that prides itself on our connections to the local community, we're proud to have developed this mobile app alongside the talented team at Bluebridge, many of whom count themselves as supporters."
The new Indy Eleven app provides followers of the "Boys in Blue" convenient access to the team's latest news, schedule and ticket information, online store and more. The newly-developed Message Center feature allows fans to receive push notifications directly from the club in addition to one central place to view past messages and take actions on messages directly inside the app.
"Indy Eleven fans will soon find that the new Indy Eleven mobile app is the most effective way to stay connected and engage with the club outside of attending a game," said Santiago Jaramillo, CEO and founder of Bluebridge. "We have enjoyed partnering with Indy Eleven to create a compelling, centralized tool they can use to communicate and engage with the fanbase like never before."
About Bluebridge
Bluebridge is a leading mobile technology company offering a mobile app software as a service platform used to build, deploy and continuously improve mobile apps and messaging for churches, corporate enterprise, tourism bureaus, colleges and more. Bluebridge's Mobile App Studio empowers organizations to connect with their audiences by delivering full-featured, affordable, native mobile apps and powerful push messaging capabilities in a simple and standardized way. Learn more about Bluebridge by visiting gobluebridge.com.