Indy Eleven's Sinisa Ubiparipovic, Eamon Zayed, & Don Smart discuss the process of returning to peak fitness
By: Scott Stewart

"It's been a difficult road, and it's more mental than physical."
Sinisa Ubiparipovic sits at the training facility on a rainy afternoon. Slicking his hair back while sporting Indy's Lew Wallace t-shirt, he can only begin to explain the long road to recovery that begins when injury troubles start to set in.
"It entails a lot of work before training with different exercises to make sure my body is ready to take on what's ahead. It's not easy but it's something I have to do in order to concentrate, be better, and help the team when I'm called upon," said the player nicknamed "Ubi" by his teammates.
Since his return to the starting XI in September against Miami FC, Ubiparipovic had cemented his place at the top of the midfield diamond in the team's formation. However, after learning of signs of arthritis in his hip, the Bosnian knew a tough road was beginning. The pain started during last season's fall visit to Rayo OKC, a match in which Indy Eleven fell 2-1 just one week before The Championship Semifinal against FC Edmonton. Pushing through it, Ubiparipovic played a key role in that semifinal match against the Eddies and ended up planting the winning goal – a beautiful curler from just outside the box to beat 'keeper Matt VanOekel and secure a spot in The Championship Final. That was the good, but there was the other side of the coin – the nagging injuries and lingering pain – that kept Ubiparipovic from completely pulling through.
"It's mentally draining as well as physically draining," he said. "Going from having things great and being pain free into something where I feel discomfort almost every day takes its toll. But, I've been mentally strong so far and I'm looking forward to every training session and every game. I'm doing whatever I can to keep battling through."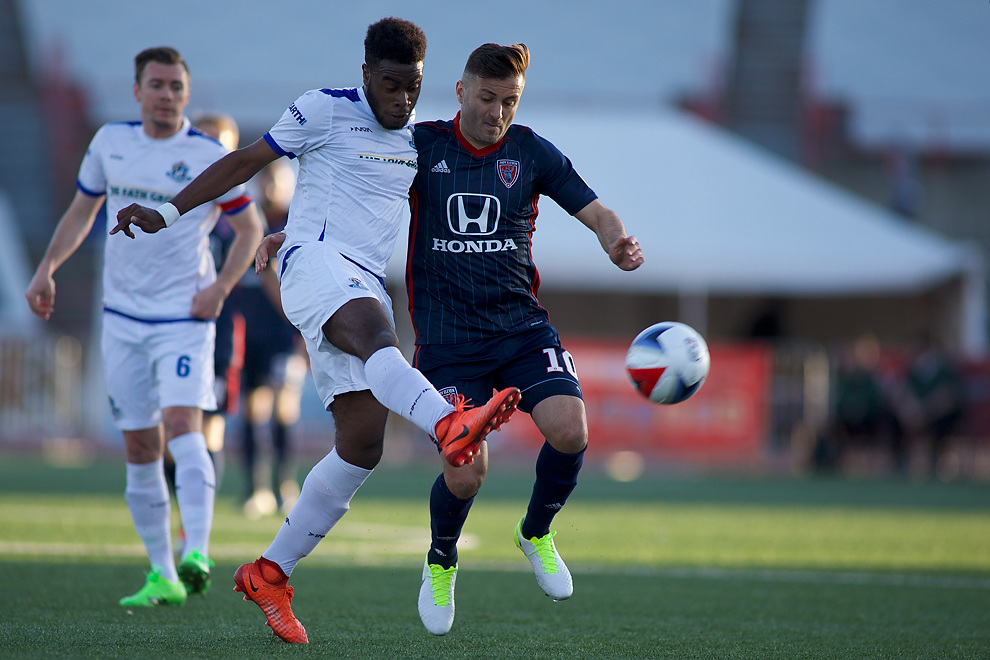 Even this year, Ubiparipovic has dealt with pain that just won't subside. There is no cure, and there's not much to offer in the way of treatment, though he continues to explore his options. However, instead of letting the pain control him, the former Montreal Impact, New York Red Bulls, and Ottawa Fury FC midfielder will continue to fight his battle, just like the rest of the "Boys in Blue."
"I'm going to keep doing whatever I can to be 100%. There are days when I feel great and days where I have pain, but I play through it. There's no cure for anything except to concentrate on what I can do to get better," he followed.
Forward Eamon Zayed is in a similar position. After missing three weeks with a rib injury, Zayed's recovery has been underway for nearly a full month. But how does a forward whose 15 league goals helped Indy reach the pinnacle of the league last year begin to get his edge back? Right now, it's a day-by-day process.
"Getting back to full fitness starts as soon as you get injured. Obviously, you have to find out what the injury is and assess how to get better and how to get back on the pitch as quickly as possible," said Zayed. "You just have to come in everyday and work harder than everybody else to get back on. It's more about what you do when you leave training that has an added effect. It may be an extra gym session, it may be extra mental training, but it's all about the work outside training that counts."
Like Ubiparipovic, Zayed emphasized that while the physical aspect of the injury takes time to heal, the mental side of things is equally as important if not more so. He never lost his touch, but the mental side was a difficult task to tackle.
"Depending on what the injury was, you might be scared to go into a challenge or into contact. You have to gain back that confidence yourself and move on, especially as a striker. One goal can turn every touch to gold," he reiterated.
In what was a seemingly ever-growing list of injury troubles, midfielder Don Smart has joined his teammates as one who is fresh from action and ready to return as time allows.
"Getting back is difficult," said the Jamaican. "When I found out that I was out for those six weeks, it was all about how quickly I could get back and if I could push the limits while staying the course on my rehab."
Smart's injury, unlike Ubiparipovic's, was not a lingering issue but came during contact in Indy's away match at Puerto Rico FC earlier in the spring. However, whether the injury is short- or long-term doesn't change the fact that returning his mental strength in conjunction with his physical was always going to be vital.
"There were days where it was tough and I had to rely on teammates, friends, and family to tell me it was alright and to tell me that everything happens for a reason," he said. "But, being back was great for me in both ways and it was good to see my teammates happy to have me back as well."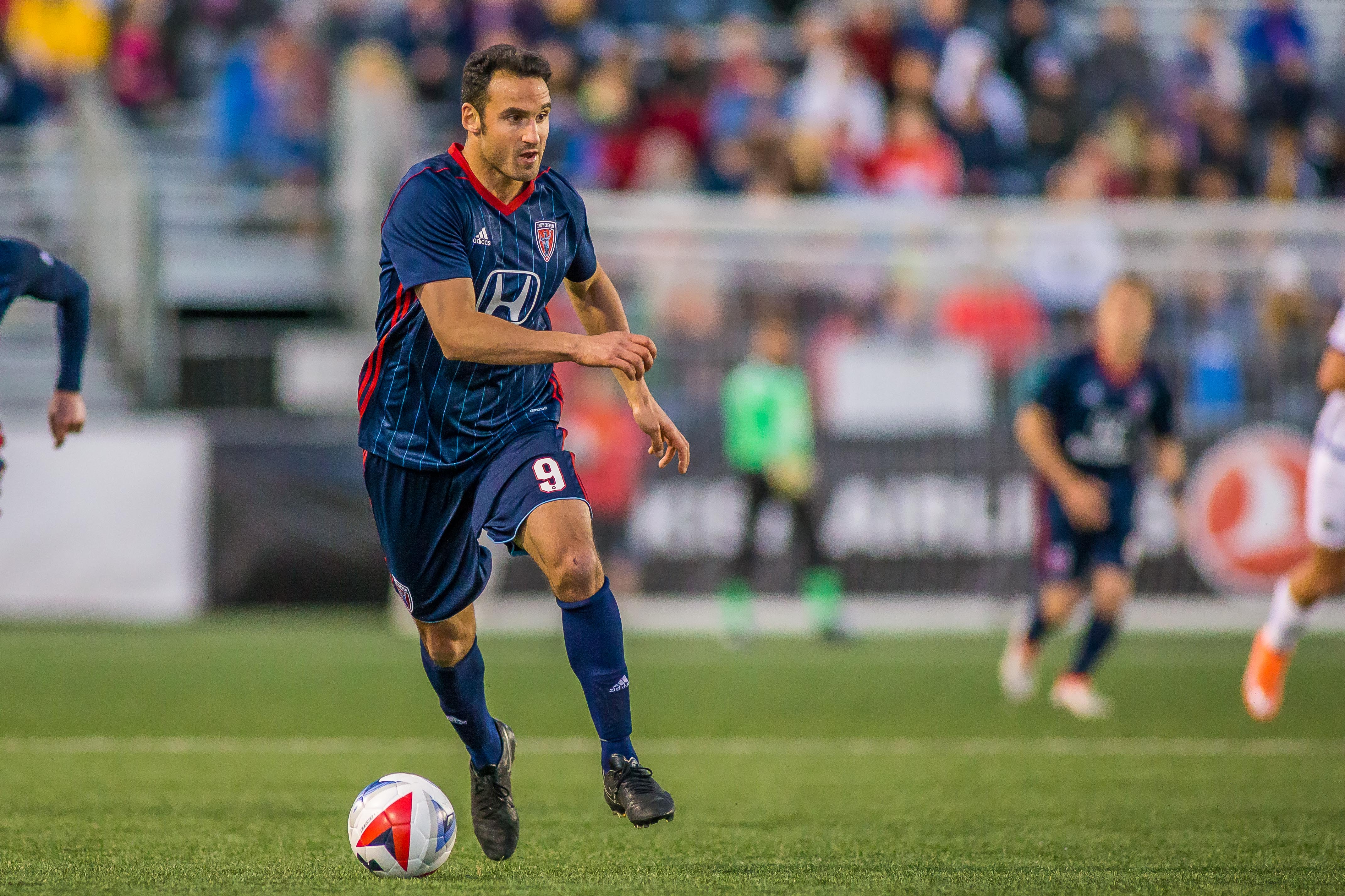 Regardless of injury troubles, one point Zayed stated that resonates with not just the pair of Ubiparipovic and Smart but with the entire squad is that there are no more excuses. Indy has seven points from 11 games heading into Saturday's clash with North Carolina FC without a win on the books. Their turnaround, regardless of circumstance, can only be completed by the players.
"One win will do a lot of good for us. We are where we are and we can't look at things that haven't gone our way; only we can dig ourselves out of this," said Zayed. "The most important thing, though, is that we can get out of it. We are better than what we're showing as a team."
Ubiparipovic echoed the forward's words.
"We look at everything – especially how we've ended up on the losing end of things this year. We aren't pretending that it's okay. We feel the pain of the fans and the organization. But, we also feel a good amount of pressure from within and want to be as successful as possible and keep pushing forward."
On his parting note, the midfielder stressed how essential it is for them to return to their home form of last year. Not giving up, not giving in, and not ever letting the opponent leave with anything but a loss – that's their goal again.
"We had a certain 'swag' last year – especially in the second part of the year – where when we stepped onto our turf we almost knew that we were going to win. One win can get us there again. In this league, a couple of wins in a row can get us out of the thick of things."
"Indiana's Team" will have that chance this Saturday during their second home match in as many weeks, a Saturday night match at Carroll Stadium against North Carolina FC at 7:30 PM. Mentally and physically ready, the fight for three points – and the fight to return to that familiar swagger – continues.