2016 Tickets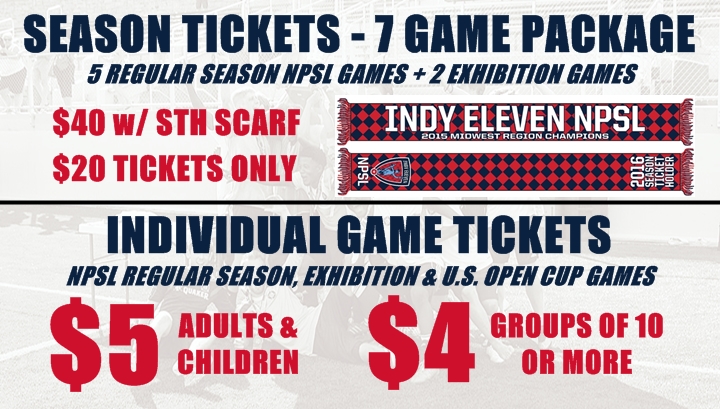 Indy Eleven NPSL is proud to call the magnificent Grand Park sports complex in north suburban Westfield, Ind., its home ground for the team's 2016 season from May through August. Click here to see the team's 2016 schedule, including regular season games, exhibition contests and Lamar Hunt U.S. Open Cup matches.
Fans with any questions about tickets should contact Dan Priscu in the Indy Eleven front office at 317-685-1100 or email dan@indyeleven.com.
Season Tickets
The 2016 Indy Eleven NPSL Season Ticket package will cover seven games - the team's five NPSL Midwest Conference games and two scheduled exhibition contests against other NPSL foes.
Season Tickets will be available in two packages:
$40 - tickets and the below limited-edition Indy Eleven NPSL scarf (which will serve as your ticket to the matches)
*** Please note that any home games in the Lamar Hunt U.S. Open Cup will not be included in the 2016 season ticket package.

Single Game & Group Tickets
Single game tickets for Indy Eleven NPSL regular season, exhibition and Lamar Hut U.S. Open Cup games will cost $5 for adults and children. Tickets will be available online beginning the afternoon of Thursday, April 7 and also at Grand Park on the day of the game.
In addition, groups of 10 or more will be able to take advantage of $4 tickets for all home games. Group tickets will also be available both online and at Grand Park on game days.
Click the "Get Tickets" links below to secure your tickets at either the regular $5 rate or $4 group rate!
| Date | Time (ET) | Opponent | Competition | Ticket Link |
| --- | --- | --- | --- | --- |
| Wed., May 11 | 7:00 pm | vs. Cincinnati Dutch Lions (PDL) | U.S. Open Cup (First Round) | Get Tickets |
| Friday, May 20 | 7:00 pm | vs. Rochester River Dogz | NPSL Regular Season | Get Tickets |
| Friday, May 27 | 7:00 pm | vs. Lansing United | Exhibition | Get Tickets |
| Friday, June 3 | 7:00 pm | vs. Erie Commodores | NPSL Regular Season | Get Tickets |
| Saturday, June 4 | 7:00 pm | vs. AFC Cleveland | NPSL Regular Season | Get Tickets |
| Sunday, June 19 | 1:00 pm | vs. FC Buffalo | NPSL Regular Season | Get Tickets |
| Saturday, June 25 | 7:00 pm | vs. FC Indiana | NPSL Regular Season | Get Tickets |
| Friday, July 1 | 7:00 pm | vs. Chicago Mustangs | Exhibition | Get Tickets |