Tim Hankinson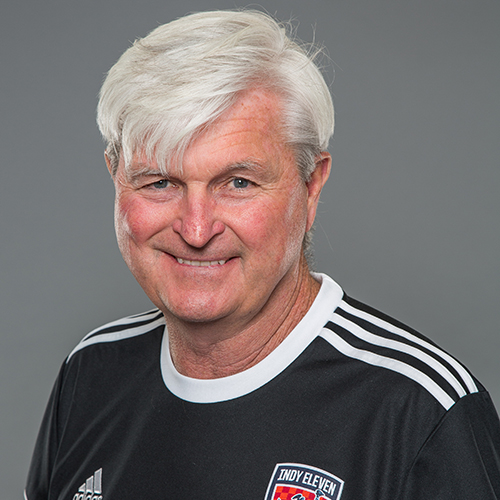 After a successful 2016 season that featured the "Boys in Blue" capturing their first trophy in club history with the Spring Season championship, Indy Eleven is proud to have head coach Tim Hankinson return for the 2017 campaign.
"A year ago we brought Tim Hankinson aboard to provide leadership on the team side of the club and improved results on the field, and he certainly checked both of those boxes," Indy Eleven owner Ersal Ozdemir said. "The Indy Eleven family is excited to continue working with Coach Hankinson as he helps the team towards more success in 2017."
Hankinson led a remarkable turnaround for Indiana's Team in 2016, starting his tenure with a 13-game unbeaten streak that included capturing the NASL Spring Season title, the first title in the team's three-year history.
Indy Eleven went unbeaten in its 19 home games in official competition in Hankinson's first year at the helm (16W-3D-0L), including a 1-0 win over FC Edmonton in The Championship Semifinal on Nov. 5 in the team's postseason debut, played in front of a sold-out crowd at Carroll Stadium.
"A fire was lit with how the 2016 season ended in The Championship Final, and that will serve as a burning motivation for what will come in 2017," Hankinson said. "Continuity is important, so I am looking forward to keeping the core of last year's squad and building on the foundation of success it achieved. At the same time we do need to grow tactically and add new faces that will bolster our play on the field and the tremendous relationship we've built with our fans."
Hankinson was named the 2016 NASL Coach of the Year and leads the "Boys in Blue" into the 2017 season having kept 13 players from the squad that reached The Championship Final.
--
Indy Eleven secured its second permanent head coach in team history on Dec. 2, 2015, by officially welcoming Tim Hankinson to the technical staff of "Indiana's Team." Indy Eleven is the latest stop on a now 36-year coaching journey that has seen Hankinson lead teams at nearly every level of the sport in the United States – including two years in the North American Soccer League and nine years in Major League Soccer – and taken him across the globe.
Hankinson comes to Indiana after most recently guiding Jamaican first division side Montego Bay United to the top of the Red Stripe National Premier League, compiling a 7W-4D-2L record during the first half of their 2015-16 season from August through mid-November. He also helped the club earn its first standings point in ScotiaBank CONCACAF Champions League action via a 3-3 draw versus Major League Soccer's D.C. United.
The native of New York City is familiar with the NASL after being named the first head coach of the San Antonio Scorpions in 2012, helping the expansion squad to the league's regular season championship in his first season. Hankinson went 21W-11D-18L in 50 games overall with San Antonio from 2012-13.
Hankinson was also one of the pioneers in Major League Soccer coaching circles during his nine years in the league from 1996-2004. His MLS tenure began in 1996 by serving as the nascent league's Director of Player Development for two seasons, during which he led the league's scouting and player development activities and coached the Nike Project-40 developmental team.
Hankinson would move back to the full-time coaching ranks by taking the helm of MLS' Tampa Bay Mutiny from 1998-2000, helping the squad to postseason appearances in two of his three seasons. From there it was on to fellow MLS side Colorado Rapids, where he racked up three more playoff nods in four seasons from 2001-04.
Hankinson began his coaching career in 1979 at the age of 25, his appointment at Oglethorpe University the first of four jobs that saw him rise through the collegiate ranks. After taking Alabama A&M to back-to-back appearances in the NCAA College Cup in 1980-81, he would help DePaul University's transition into Division I play from 1982-83 before moving on to Syracuse University for five years.
After more than a decade in the college game, Hankinson began his professional resume in 1990 with a move to Icelandic club UMF Tindastoll. After two seasons in Europe, Hankinson would move back stateside, first helping establish the successful launch of the Charleston Battery as the then-USISL team's head coach from 1992-94 before accepting the general manager position with the Raleigh Flyers in the same league in 1994.
After his MLS tenure, Hankinson's globe-trotting began in earnest in 2005 in Brazil, where he served as a guest coach for first division side Figueirense FC. He then moved north to Central America, accepting the head coach position for the Guatemalan Under-17 Men's National Team during its CONCACAF qualification campaign for the 2007 U-17 World Cup. A brief tenure with Indian club Salgaocar SC in 2009 would conclude his time abroad up until this fall's experience in Jamaica with Montego Bay United.
In between his time in Guatemala and India, Hankinson would return to Colorado for two successful seasons at NCAA Division II Fort Lewis College from 2008-09. He would dig into the grass roots level of the sport after his time in India by returning to Colorado, serving as the Director of Coaching for Broomfield Soccer Club in suburban Denver.
In Their Words ...
Hankinson: "I am honored to be leading one of the great organizations of the North American Soccer League. I come to here determined to build a winner on the field and celebrate a future championship with our fans and the Brickyard Battalion."
Indy Eleven Owner Ersal Ozdemir: "Experienced candidates were a focal point of our search, and few coaches have the knowledge of American soccer and experience like Tim Hankinson. On behalf of the Indy Eleven family I want to welcome Tim and his wife, Yvette, to Indianapolis and look forward to them receiving the support of one of the most passionate fanbases in the country."
Indy Eleven President/General Manager Peter Wilt: "Having known Tim Hankinson for two decades I am well aware of the immense experience and knowledge be brings. Between the fresh perspective of Tim Hankinson and the vast knowledge of our squad that Tim Regan possesses, I am confident we will build a championship caliber roster our supporters deserve."