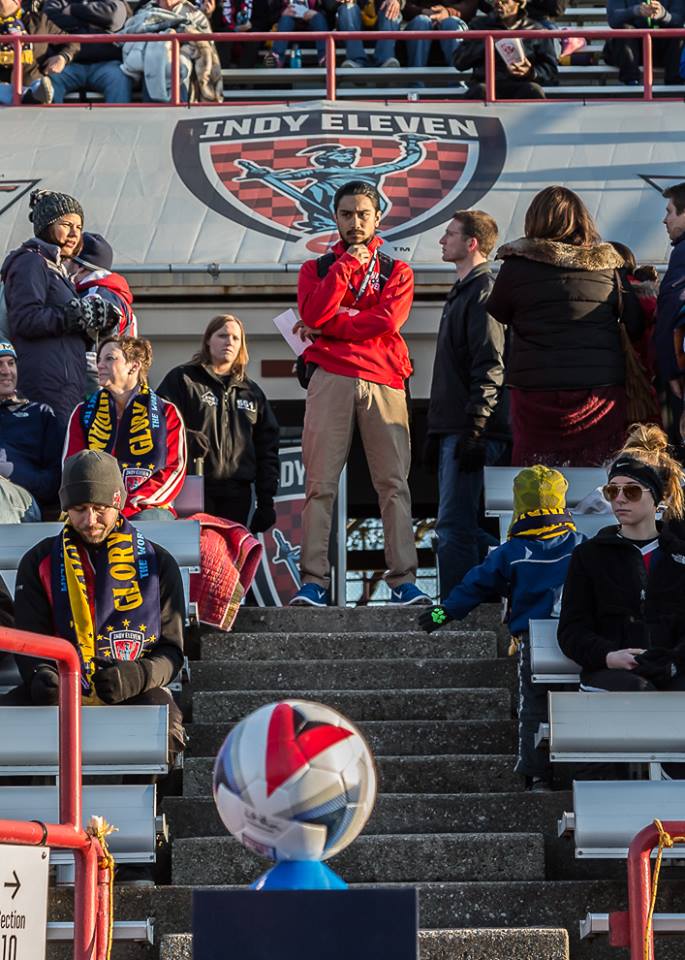 Name: Justin Autajay
Job Title: Operations Manager – managing and executing all aspects of a game day (set-up, game presentation/elements, entertainment, Honda Fun Zone, break down, etc) & coordinating stadium operations
Hometown: Born/From in Indianapolis, currently lives north of downtown Indianapolis
After I graduated from Indiana University in 2011, I interned with the US Soccer Development Academy working tournament operations. Our staff was in charge of all set-up/break down and game operations throughout each tournament. In the summer of 2013, I began my career with Indy Eleven as a marketing and operations intern.
Throughout the past 4 years, I've been able to work in several departments with the team which has been a great experience. I've always wanted to work in sports. Being around the game of soccer my whole life, working for Indy Eleven seemed like a perfect. The people I work with and the game day environment are what I enjoy most. I've had the chance to work with a lot of great people over the years here and being surrounded by those who share the same passion as you makes it more enjoyable. The atmosphere of a game day at Carroll Stadium is something our fans and city have taken a lot of pride in each of the last 4 seasons. The support and appreciation of the fans helps us create the best possible experience for them every game.
My first memory working for Indy Eleven was the International Champions Cup game in 2013 when we hosted Chelsea vs. Inter Milan at Lucas Oil Stadium. This was the first big event I helped with as an intern and it was incredible to see over 40,000 fans in attendance that game. Some of my favorite memories at Indy Eleven were the trips we took to the 2013 Soccer Bowl in Atlanta and a staff outing to Tampa Bay as well as clinching the Spring Championship in 2016 in front of our home crowd.
Indy Eleven is important to me because working here has given me the opportunity to pursue my passion for sports and the game of soccer in the city I grew up in. Being part of an organization that helped grow professional soccer here is something special. Indianapolis is a thriving sports city and Indy Eleven has been an important part of that over the last 4 years.