By: Scott Stewart

Growing up, all Indy Eleven midfielder Sinisa Ubiparipovic knew was soccer. He loved to watch, he loved to play, and he loved to learn. He centered his childhood around "The Beautiful Game" as he was raised by his parents in Yugoslavia in the 1980's and 1990's.
"I started as a kid when soccer was obviously an extremely popular sport where I was. I was born in Yugoslavia and we played in the streets or my dad would take me to the park to kick around. You could compare it to playing catch here whether football or baseball, but we would do that a lot. My first steps were with my father," said Ubiparipovic.
"I arrived in the United States in 1999. At that point, Yugoslavia had all split up into the republics and independent states and countries. I didn't end up playing for the first couple of months that I moved here because I didn't know anybody."
Like many others in the same boat, "Ubi" and his family faced a lengthy period of adaptation. In a new country with so much promise, the soccer-minded teen was confused and had lost his comfort in soccer. He didn't know where to turn.
Fortunately, the answer came soon in the form of a family friend and former NASL player, Joe Raduka. A fellow Serbian who would later become his godfather, Raduka ran a local youth club and invited young Sinisa and his brother to play. After wondering if his opportunity in the sport in the States would come, Sini saw the move come to fruition in the most humbling of ways.
"[Our coach] helped us tremendously. We all know soccer is a pay-to-play sport here in the States, but he never took a dime from us knowing our family had just moved here. He paid for everything and we're still grateful for that today," said Ubiparipovic.
"It can be a long process. I came to a country where I didn't know what to expect. For us back home, we didn't know much about soccer in the United States because nobody was talking about it. There didn't seem to be much interest, again, especially from a European standpoint."
However, Sinisa grew, and with him, the yearn to learn. Growing up in the Cleveland area, "Ubi" joined Cleveland United and the skillful playmaker was a standout player from the start. As his ability flourished, the possibility of becoming a professional became more and more real. This was his chance to step up to the next level, he felt. Possibly his only chance.
"The collegiate process was very simple, in my head. I needed to go to a school that could provide me with the kind of help I needed in scholarships. There were other 'big-time' schools in college soccer who offered me the chance to play there on various scholarships – offers that most people in this country would take with both hands and not even think about it," he said.
"I had to think about it. To me, it didn't matter if it was Wake Forest, UNC, Maryland, etc. – just naming a few – I couldn't just jump at the chance. For some, I know that's unimaginable, but I had to have my school almost completely played for."
As the offers rolled in, one stood out in particular. The University of Illinois-Chicago (UIC) offered "Ubi" the best immediate chance to keep playing the game while taking on schooling. After exploring all of his options, he committed to UIC.
"UIC was a good soccer school and I liked it a lot. Two things happened there, though. I knew I wanted to be a professional soccer player but UIC was not the best route for me to get there," he said. "So, I moved back to Akron almost immediately. I would have moved even sooner but I wanted to finish the year so I could complete my coursework."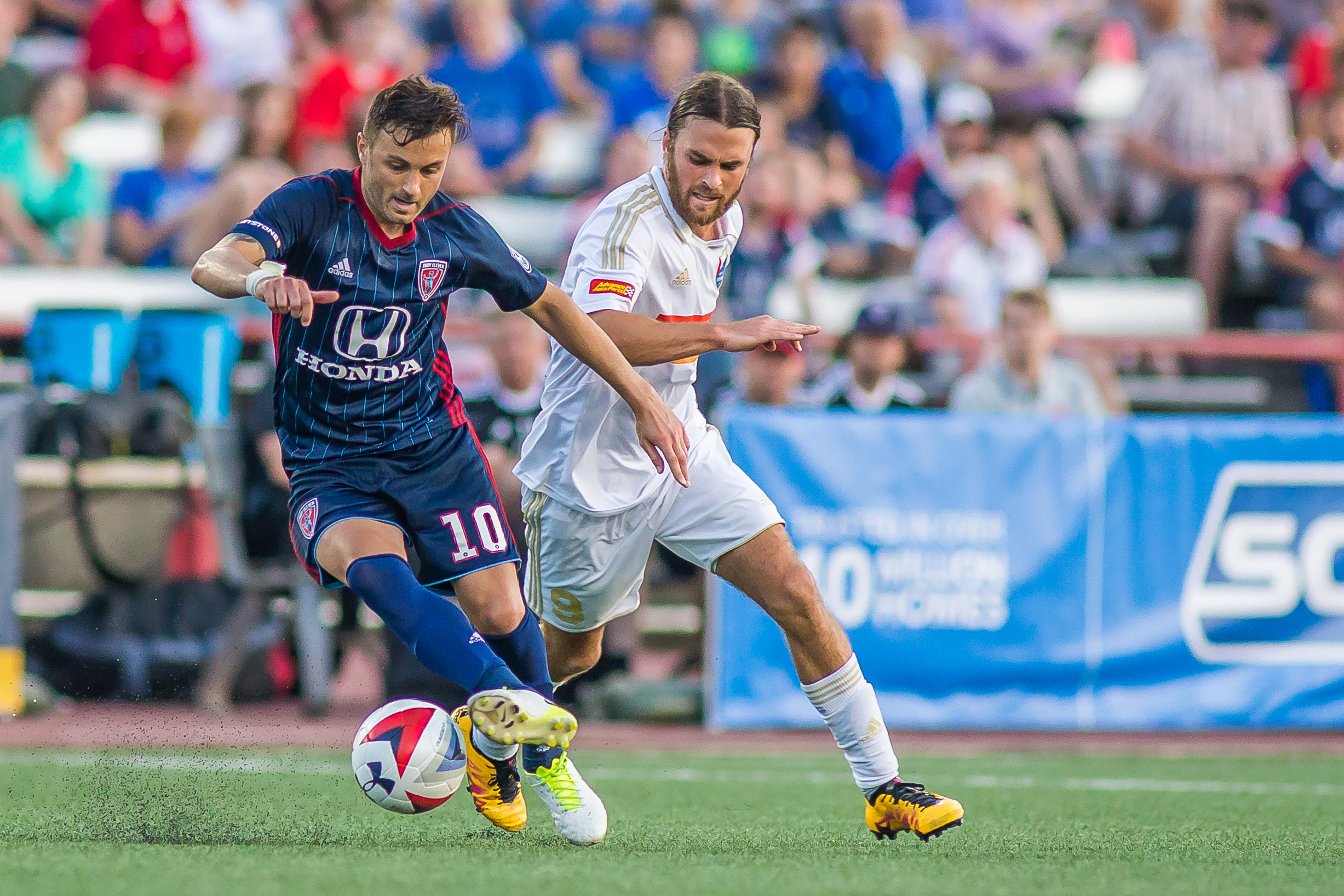 Despite things not working out in Chicago, Ubiparipovic was determined to stay the course on the road to becoming a pro. Moving back to Akron, where he would once again be closer to family and friends, allowed him the chance to play the game at a higher level. The difference was immediate.
"The way they trained at Akron and the way they approached the game would give me a better chance of going pro. They also stepped in and gave me a great scholarship, which I was looking to take," stated the midfielder.
"It was a homecoming of sorts. Akron is just 45 minutes away from my house. At UIC, my parents drove to almost every game in Chicago and even some of our away games, which could be a six- or seven-hour drive. At Akron, though, it was easier to have my family and friends around me. It was a win-win situation."
After grinding in Akron and helping the Zips rise to the top of the college game, Ubi's dream came true. In 2007, the New York Red Bulls selected Ubiparipovic in the third round (33rd overall) of the MLS SuperDraft.
"I did not see myself getting drafted by New York, honestly. I trained with the Columbus Crew one summer and did fairly well and expected to maybe stay somewhere in the Midwest region somewhere but as a late addition. So, when New York drafted me, I was thrilled," he said.
"I loved New York. It was a great time and I had the pleasure of playing with and against some tremendous players. Seeing some of these guys on a daily basis was an experience of a lifetime."
After earning over 80 appearances in a Red Bulls uniform, Ubiparipovic found himself a free agent following the 2010 season. Unsure of his next move, he consulted with family and friends on the multiple offers received. In the end, it was decided that he would pack up and move north of the border to play for the Montreal Impact in his second stint in MLS.
"Going to Montreal, I didn't know what to expect again. I was told that the club had passionate fans and that the city was very European and that I'd like it as long as I tried it. That's exactly what happened. They were in the NASL but they were headed to MLS and I wanted to be there and thankfully that's what happened," he said.
"Montreal was a phenomenal city with phenomenal fans who accepted me well. I've been blessed to be able to play in cities like New York and Montreal at the major-league level. From that perspective, I've been extremely fortunate."
However, after a tough start to his second season with the club and an injury that prevented him from featuring in the first few games, Ubiparipovic opted for a loan spell with Minnesota United, where he got his first look at the NASL.
"I was the age where, in Montreal with a new coach and a tough start to the season compounded by my injury, I figured it was time for a shift after the loan to Minnesota," he said.
From one Canadian club to another, Ubi made the switch to Ottawa Fury FC after the 2013 season where he would link up with now San Francisco Deltas head coach, Marc Dos Santos.
"I met Marc [Dos Santos] in Montreal months back and knew he was taking over in Ottawa. I spoke to him and he offered me a contract as early as August or September for the following year in the NASL so I knew I was going with him," said Ubiparipovic.
"That's something I really wanted to do after speaking with him. I really liked his ideas and philosophy and thought maybe it was time to go with him and continue my learning experiences. It was the right move."
Ubiparipovic found success in two years Ottawa, winning the 2015 Fall Championship en route to The Championship Final against the New York Cosmos, a match his side would fall in despite going to the distance in the buildup. Scoring five goals and recording eight assists in 26 matches, Ubiparipovic saw his career winding down and began to keep one eye on the road ahead.
That road would bring him to Indianapolis and Indy Eleven.
In Indy, Ubiparipovic saw an opportunity to help build another team on the road to a championship, just like he had in Ottawa.
"Indianapolis was a place where, every time we played here, it was a great time with a great atmosphere. I thought that if I was going to finish up in the NASL that I wanted to be close to home," he said.
Ubiparipovic liked Indy and heard that the organization was in good hands. Even though he didn't know who the coach would be at the time, he knew he wanted to learn what he could and absorb as much on the game as possible.
"One of my goals at the end was to begin down the coaching path, and like I said, I was fortunate enough to learn from just about every place I had a stop in. Along the way, I had some great coaches and picked up some very good things from them. Even here, I learned, and that's what I wanted."
With the final game of his career on Sunday, starting down the coaching path is the next step for Ubiparipovic.
"I have a college offer to become an assistant coach at a Division I soccer program. I'm not yet ready to talk about things to the fullest, but I'm looking forward to beginning my coaching and scouting career both at the collegiate and youth levels of the game," he said.
However, as he readies for the next phase of his life, Ubiparipovic finds it appropriate to reflect on his journey. From a child kicking the ball around at the park to a player who has won a Western Conference Championship in MLS, the Canadian Championship with Montreal, and two regular season championships with Ottawa and Indy, "Ubi" has experienced it all.
"Without my family and the support of close friends, and now later in life, my wife, all of those people stood by me and gave me a great deal of advice whenever I was in trouble or in doubt. They always provided me with comfort and support," he said.
"To the fans, I want to say thank you for absolutely everything throughout my career regardless of where I was. Everyone was accepting wherever I went and I'm grateful for that. To all the clubs I've played for, I also want to say thank you. I'm proud to have worn the shirts of the clubs I've been with. They allowed me to wear that jersey and to represent them in the best possible way and I've done that to the best of my ability."
With moves in the works behind the scenes, the talented 34-year-old is ready to see where the next road takes him – from one road to another, his contribution to the game continues.