2017 Media Guidelines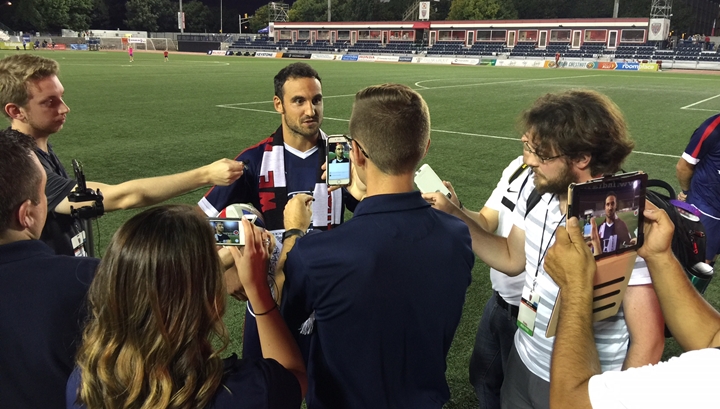 Indy Eleven looks forward to working with members of the media during the club's fourth season of play in the North American Soccer League in 2017. Please review the following information regarding credential requests, access to team practices and community events, interview request procedures, policies for coverage of home games at IUPUI's Michael A. Carroll Stadium and more.
MEDIA CONTACTS:
For any matters pertaining to Indy Eleven's MLS expansion bid or the Stadium for Indiana project:
John Koluder
John@IndyEleven.com
317-919-0808 (mobile).
For all other matters pertaining to Indy Eleven's 2017 NASL season and day-to-day operations, including interview requests for players, coaches and club personnel:
Scott Stewart
Scott@IndyEleven.com
317-685-1100 x182 (office)
317-966-3130 (mobile)

PROFESSIONAL CONDUCT: All media who have been issued credentials or who are granted access to the team are expected to follow the guidelines set forth below, as well as the instructions of the Indy Eleven staff, Carroll Stadium employees, and security personnel, or risk limitation of access or revocation of credentials.
Media access is issued with the purpose of providing access to interviews and written, audio and visual accounts of the team and club, as appropriate. No member of the media should use this access for autographs, personal photographs or commercial requests. Doing so will automatically result in the revocation of credentials to cover Indy Eleven for the remainder of 2017 and potentially limit access for future seasons, depending on the severity of the infraction(s).

PLAYER AND STAFF INTERVIEWS: All interviews for Indy Eleven players, coaches, executives, and staff MUST be coordinated through the Communications Department. Contacting players directly – including through social media platforms – could result in the revocation of credentials and future access.
Interview requests for Indy Eleven executives, players, coaches and staff members can be submitted to Scott Stewart via the contact information at the top of this page.

INDY ELEVEN MEDIA DISTRIBUTION LIST: Requests to be added to Indy Eleven's media distribution list should also be sent to Scott Stewart via email at Scott@IndyEleven.com.

MEDIA ACCESS AND AVAILABILITY AT TRAINING SESSIONS: Indy Eleven training sessions are open to members of the media unless otherwise noted in each week's schedule/itinerary (to be either distributed as a Media Advisory or posted on the team's website by Sunday evening or Monday morning each week).
Practices will include interview availability for all players and coaches with members of the media immediately following the session. If arranged at least 48 hours in advance, players and coaches can be made available prior to training sessions up until 30 minutes prior to the start of training.
Most Indy Eleven practices in 2017 will be held at the Grand Park sports complex in Westfield, IN, beginning at 10:00 a.m. ET and last approximately 90 minutes. Select training sessions will be held at Carroll Stadium (normally the day prior to a home game), and these will be noted in the aforementioned weekly schedule.
When possible, media members are asked to confirm each day's training session and make interview requests for specific players at least 24 hours in advance so that their availability can be confirmed, which can be done by contacting Scott Stewart via the contact info at the top of this page.

MEDIA ACCESS AND AVAILABILITY AT NON-GAMEDAY/PRACTICE EVENTS: Indy Eleven invites media outlets to cover any of its various appearances in the community and special events. While credentials may not be necessary for entrance into these events, since each activity will involve different procedures and partners, media members are asked to RSVP and receive any additional information needed for clearance and confirmation of attendance by contacting Scott Stewart via the information at the top of this page at least 24 hours in advance of each event.

OFFICIAL WEB SITE: The official website of the club is www.IndyEleven.com. The content posted on this site may be republished in its entirety by media outlets with proper credit. Please note that user-generated content, including user comments, photos and videos may not be republished without explicit consent from the club.

PHOTOS AND VIDEO FOOTAGE: For access to photography (including team headshots) and video footage of Indy Eleven matches, visit the North American Soccer League's FTP site at http://public.nasl.com.
Photo and video archives from the team's 2014-16 seasons can be found at http://archive.nasl.com (also includes photo and video archives from the 2014 & 2015 seasons).
Please credit the club (Indy Eleven or, in instance of road games, opposing team) and the name of the photographer (name on folder in which photos appear) where possible when republishing any photos found on the above FTP sites.

SEASON & SINGLE GAME CREDENTIALS: Indy Eleven will be issuing season-long credentials for the 2017 season at IUPUI's Carroll Stadium, for which media members can apply online at www.IndyEleven.com/season-cred. The number of credentials issued to each outlet will be determined by the demonstration of ongoing and consistent coverage of the team in previous seasons and space available in the Carroll Stadium press box.
Requests for individual game credentials must be made at least 24 hours in advance of kickoff via the team's single game application online at www.IndyEleven.com/single-game-cred. The single game credential application form will go live at least 72 hours prior to each home contest in 2017.
Any member of the media using their credential for unauthorized purposes or any manner deemed unsuitable by Indy Eleven will have their credential revoked. All credentials are intended for the working media only and are nontransferable. The following actions will result in the permanent seizure of the credential:
Requesting autographs at any time
Taking photographs with players/coaches
Using credential for family or friends of a working media member
Conducting unauthorized interviews
Publishing content that is willfully false, as well as damaging, about the club and its staff, players and/or other Indy Eleven and/or gameday employees at Carroll Stadium and/or their family members
Unprofessional behavior (Cheering in the press box, consumption of alcoholic beverages, failure to abide by posted rules, etc.)

GAME DAY MEDIA WILL CALL, ENTRY ACCESS & PARKING: Media needing to pick up their full season or single game credentials and/or parking pass should check in at the Carroll Stadium Media Will Call table, located outside the Southeast Gate off of University Boulevard ... click here for a map of Carroll Stadium and the surrounding area.
The Media Will Call table will begin distributing credentials to media members TWO HOURS PRIOR TO KICKOFF. If you need to arrange for earlier pickup, please contact Scott Stewart via the contact info found at the top of this page by at least FOUR HOURS PRIOR TO KICKOFF.
The Media Will Call table will SHUT DOWN 15 MINUTES PRIOR TO KICKOFF, at which time media members will be able to pick up their credential and/or parking pass at the main Carroll Stadium Box Office, located at the West Gate off of New York Street.
Credentialed media members will be allowed to enter Carroll Stadium through the Southeast Gate beginning two hours prior to kickoff, and through all entry gates WITH THEIR CREDENTIAL once they open to the public 90 minutes before kickoff.
Parking passes will be made available to working media for Lot A, located just west of Carroll Stadium off of New York Street. A limited number of season and single-game parking passes are available; priority will be given to media members working on deadline and that have shown consistency in covering home matches. Visit www.IndyEleven.com/carroll-stadium-parking for a parking map for Indy Eleven games at Carroll Stadium.

PRESS BOX: The Press Box at Carroll Stadium is located atop the facility's main South Grandstand and will OPEN TO MEDIA MEMBERS TWO HOURS PRIOR TO KICKOFF. Only credentialed members of the media will be allowed inside the press box.
Cheering and loud noise of any kind will not be permitted in the press box; violation of this rule could result in the revoking of credentials for the remainder of that match and future home games.
A gameday meal will be provided for credentialed media members in the upper level of the press box. The meal will be available on a first-come, first-served basis beginning when the press box opens two hours prior to kickoff.
Please note that the Carroll Stadium press box is not ADA accessible. If you are a media member that requires ADA access, please contact Scott Stewart (via contact info found at the top of this page) at least 24 hours in advance of kickoff so that accommodations can be arranged in a timely fashion prior to game day.

PRE-GAME INTERVIEWS: While the Indy Eleven locker room will be closed to media members prior to every game, pre-game interviews with players and coaches can be requested via Mr. Stewart; such request must be made at least 24 hours prior to kickoff. Please note that pre-game interview availability will end 75 minutes prior to kickoff.

POST-GAME INTERVIEWS: Due to facility limitations at Carroll Stadium, there will be no formal press conference availability. Instead, Indy Eleven Communications Department members will facilitate interviews with the team's head coach and requested players at field level on the south sideline (bench side), beginning with "scrum" availability for the head coach approximately 10 minutes after the final whistle. Players will be made available for group and/or individual interviews no sooner than after the NASL-mandated 15-minute "cool down" period.
Media members are strongly encouraged to put in their requests for specific players with Indy Eleven Communications Department staff prior to the final whistle either in the press box or at field level.

FIELD LEVEL ACCESS AT GAMES: Unless otherwise noted, credentialed media members will be granted the following field-level access during game day at Carroll Stadium:
PRE-GAME: All credentialed media members will have access to all areas of the field level WITH THE EXCEPTION OF THE TEAM BENCH/TECHNICAL AREAS. This access will be available through kickoff.
IN-GAME: Credentialed media members using their access to gather photography and/or video footage MUST BE STATIONED ALONG THE WEST OR EAST ENDLINE; the only exceptions are for television broadcast crew members and official team photographers. While the North (suite) sideline will be made available for media members to move between endlines during the run of play and at halftime, the South (bench) sideline is STRICTLY OFF LIMITS for credentialed media until after the final whistle. Media members that do not follow this guideline will be at risk of having their credential revoked.

LIVE WRITTEN IN-GAME UPDATES (NASL POLICY):
Online or text reports (e.g., live blogs, twitter, etc.) concerning NASL games while they are in progress are subject to following:
While a game is in progress, any forms of accounts of the game must be time delayed and/or limited in amount so that the game coverage provided cannot be used as a substitute for authorized play-by-play accounts.
Any suggestion by an individual or entity that live updates are being provided as a substitute for authorized play-by-play accounts is strictly prohibited.
Live updates may not use any audio, video or graphic simulations of NASL Games.
Live updates must provide other broadcast information for that NASL League game. For example: "Tonight's NASL match is being streamed live on (address of participating Teams website)."
All live updates must be free of charge to readers.
Note: This policy does not prohibit the posting of the facts of a game (e.g., goals scored, cards given, game score and time remaining).

WI-FI ACCESS: A dedicated, complimentary Wi-Fi network originating from the Carroll Stadium Press Box is available for working members of the media; please visit the Press Box for network name and log-in details. Photographers should note that access to this dedicated network from field level should not be expected due to distance and traffic capabilities.

Thank you for your interest in covering "Indiana's Team" this season and we look forward to seeing you at "The Mike" throughout the 2017 campaign!